$139.00 $142.90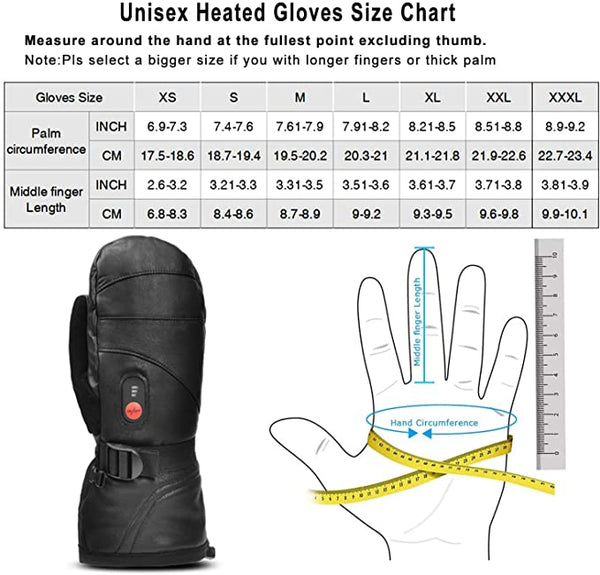 This leather savior heated mittens power by 7 volt high endurance battery can keep heating up to 6 hours.
This kind leather warming mittens surface cover by goatskin leather, feel soft and thick. Middle place TPU waterproof layer, it's enough protect to you from snowstorms.

Savior leather heated mittens feature:
【High Quality Material】 The external layer of the heated mittens is made of 40% lambskin and 60% polyester, thick and waterproof and windproof. And the internal part made of soft pearl cotton insulation layer includes imported heat elements and a pair of 2200mAh rechargeable lithium-ion batteries to keep your hands warm. The back has a carbon fiber protective shell for protecting your joints. Buckle-style hook and loop fastener on the cuffs is designed for easy to adjustment.
【3 Temperature Settings & Instant Heat】 Equipped with three different heat settings - high, middle, low, you can control the temperature of the heated ski mittens easily. 3 heating settings system can provide the most appropriate temperature for user. Your hand can feel obviously warmer after turning on the heating system 30 seconds.
【Excellent Warm Function】 The battery powered rechargeable gloves provide a wide heating area covering your whole back of hand and all fingers, in cold weather, you can feel more comfort and warmth.
【Perfect For Outdoor Sports】 Savior heated mittens for men and women are perfect for a variety of outdoor sports in cold and chilly days, especially ideal for running, cycling, hiking, skating, camping, snow skiing, fishing, hunting etc.

Usage Instructions:
Always remove the batteries from your gloves when charging
Charge your batteries at room temperature for 3 hours prior to first use
The LED light on the charger will illuminate RED while charging.
The LED light one the charger will illuminate GREEN when Charging is complete.
Carefully connect the power wire inside the glove storage pocket to the battery.
Position the battery inside the glove pocket and seal velcro along the top to secure the battery in place.

Wash And Clean
Remove batteries from mittens first when being cleaned or stored
Don't machine wash and dry
Don't bleach
Don't iron
Don't dry clean
Spot clean gloves by hand using only mild detergent
Air dry gloves lying flat

What's Included
1 x Leather Warming Mittens
2 x 2200MAh Li-ion Battery
1 x Charger
1 x instruction manual
1 x Storage bag
GUARANTEE
30-day return and exchang
180-day Limited Warranty on heating elements and batteries.
Qustion and Answer
Question: Are these waterproof?
Answer: This leather gloves added TPU waterproof bag, it can play a waterproof effect.

Question: Is the thumb heated?
Answer: Yes! The three finger mitten/gloves does heat my 80% leather glove thumbs. On high, with the batteries fully charged, the thumbs get to about 80 degrees using a thermal gun. Kept my hands warm while shoveling snow for 3 hours.

Question: How long does a full charge take?
Answer: take about 3 hours.

Click To Purchase Extra Batteries