How About Savior Heated Socks
If you suffer from the cold, you may want to try Savior Heated Socks. These socks are made with a high-quality material that wicks moisture. These socks sit near the calf and are thick enough to cushion the wires. The temperature range is 104-140 degrees F. You can even charge both batteries at once, they are also very easy to wash.

The Savior Heated Socks come with a built-in battery, which provides a good amount of warmth. The heated socks have a battery life of about six hours, and they are comfortable enough for outdoor use. The batteries are 7.4 Volts, and the socks have a moisture-wicking fabric that allows the feet to stay warm. They are also great for people with arthritis or poor circulation. The Savior Heated Socks are an excellent choice.

For the most effective use of these heated socks, make sure you charge the batteries before using them. The socks work with rechargeable lithium ion batteries that provide warmth for as long as they are in operation. As with any battery, when the battery runs out, the heating function stops. Different manufacturers offer different battery types. Some last up to ten hours on low heat, while others last up to 3.5 hours on high heat. They are easy to use and can save you a lot of money on medical bills.
The heating elements are located above and below the toe. They are also helpful for people with Raynaud's disease, arthritis, or neuropathy. The heating elements are comfortable and come with three heat settings and a 30-second fast-heating feature. They are very comfortable, with a soft cotton-blend material and orange accents. The batteries are easily rechargeable, too. And some of heated socks come with a remote control key for operate the socks.

Comfort is the number one priority when buying a pair of heated socks. When shopping for a pair, pay attention to the fabrics used, the design, and customer reviews. Don't be fooled by claims of high warmth or impressive statistics. Inconsistent socks can ruin a day out in the cold. So, choose wisely! If you need heated socks for hiking, look for a pair with a jack-of-all-trades feature. If you own motorcycle boots, look for a pair that also has a heated toe cap.

These heated socks use rechargeable lithium-ion batteries. These batteries fit into a pouch near the top of the socks and are easy to remove when charging. Depending on the type of socks you have, they can last up to 4 hours on high heat and up to seven hours on low heat. They are also extremely durable and practical. And you can use them in your washing machine as well as handwash them. This makes them perfect for anyone who needs a pair of heated socks during the cold season.

Another great feature of heated socks is that they can be moisture-wicking. These socks wick away moisture and allow foot perspiration to control. This feature is especially useful in cold-weather activities, as they keep your feet warm during activity. In addition to preventing cold feet, heated socks can help with circulation problems as well. Some even help relieve Raynaud's syndrome, an affliction where blood circulation is impaired.

The Savior Heated Socks are rechargeable electric socks for your feet. Powered by lithium ion batteries, these socks provide heat for your feet for up to 8 hours. The socks are made of thick material and soft, breathable fabric that keeps your feet comfortable even in extreme cold. They are windproof, lightweight, and ideal for people with arthritis, bad circulation, and stiff joints. The socks can be refilled using a USB dual charger.
If you decide to purchase these heated socks, you must pay close attention to their battery life. Many models use rechargeable lithium ion batteries so you don't have to worry about replacing them. They also feature a dual-cable charging system, so they won't be damaged by frequent washing. They can also last for several hours. For more energy-efficient use, you can purchase larger batteries. Just be sure to read the manufacturers' instructions on charging the product.

For optimal warmth, the socks contain three heat settings, and they can heat the instep and entire foot. The temperature can be adjusted with the press of a button. The heating module is thin, so it won't add extra bulk to your calf. The socks come in fun colors, including black gray green and orange. These socks are perfect for outdoor activities and winter sports. They're also very comfortable. The heat generated by the heated socks can provide comfort up to 10 hours.

The socks are easy to use. The heated portion of the socks uses a waterproof membrane to prevent damage to the wires. The heating elements are very safe, since the voltage is 7.4 volts and below, which is hardly enough to cause any electrocution. The heat from the Savior Heated Socks last for approximately 30 minutes. If you're prone to cold feet, these socks are a great solution.

The heaters in these heated socks are designed to be adjustable to accommodate various types of winter activities. They feature three heat settings - high, medium, and low - and can be easily switched between them. In addition to the adjustable heat levels, the heated socks are also protected by layers of fabric. They are made to fit snugly under ski boots and can be worn by people with many physical activities. If you're prone to cold feet and toes, heated socks are a great solution.

The heated socks are powered by 7.4-volt battery packs and are great for keeping feet warm. They come in remote control models, and you can adjust the heat to your preference. The socks also have moisture-wicking qualities. When you're outside in cold weather, these socks are a great addition to your wardrobe. These socks are a great addition to any wardrobe, and are an excellent choice for people with diabetes. There are a number of other types of heated socks available on the market today, so you can find one that's right for you.
There are heated socks for women designed to fit a variety of different foot sizes. When shopping for heated socks, shoppers may look for ones that stretch a little bit. Some of these pairs feature elastane, spandex, and cotton. Stretching the fabric makes these heated socks conform to the foot better and can be worn for a variety of activities. Others may prefer compression socks with a heated toe cap.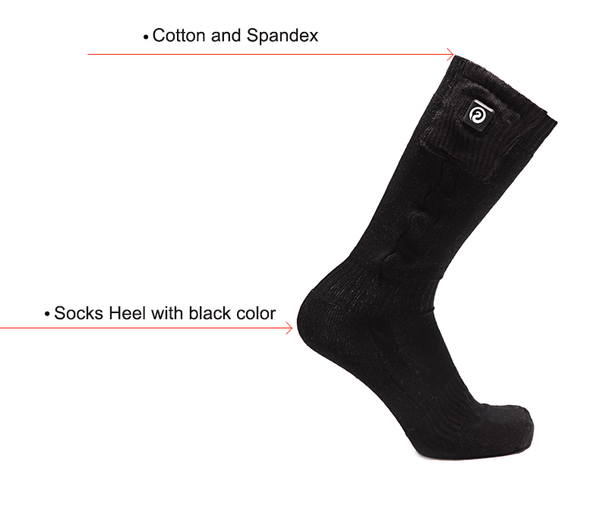 1 Response
Leave a comment